As we get older and our skin changes, there are quite a few things to consider to find the best foundation for aging skin over 50. After all, as we age our skin usually shows signs of aging in the form of age spots, uneven skin tone, and wrinkles. So how do you tackle these issues with a foundation that gives you a natural look?
How the Right Foundation Improves Our Skin
Choosing the right foundation, especially with older skin, makes all the difference in the world for achieving a flawless look with makeup. Where a tinted moisturizer, or bb cream is a good option for many, as we age it may take a little more coverage to get the results we want. That doesn't mean that you have to go with a full-coverage foundation. However, I think the thing to look for is a type of foundation that gives you the most flexibility for buildable coverage and a natural finish.
Understanding Skin Types
Before jumping in to talking about foundation and discussing what is the best foundation for aging skin over 50, let's first talk about your skin. The different skin types, how our skin can change over the years, and how to address these changes to help makeup look better.
As a teenager and into our early adulthood many of us suffer from oily skin. Or, more commonly, combination skin. This is the most common skin type and it's when you have visible pores on the T-Zone of your face. Oily skin has visible large pores throughout the face. And, dry skin has no visible pores and the skin feels tight.
Normal skin, which is actually more rare, has no visible pores, no flakes, no hyperpigmentation, and no acne. Now you can probably see why this is a less common skin type than you probably thought right? While most of us like to think of our skin as being "normal", by skin care definitions you can see that most of us fall into the category of dry, oily, or combination.
Best Foundation for Aging Skin Over 50
When choosing a foundation for aging skin, you want a foundation that will give your skin a more youthful look. And you definitely want to stay away from foundations that settles into wrinkles and makes your skin look older. This is why a powder foundation is usually not the best option for dry, or mature skin.
A powder, or mineral foundation is often a quick and easy foundation that you simply dust on. I know that I used it when I was younger, but as I got older I found that I didn't get the coverage I needed with the foundation. And, it didn't make my skin look better. In fact, my skin looked dry and as the day went along the foundation accentuated all of the things I wanted it to hide.
Liquid foundations can be a good choice for aging skin because it won't make your dry skin or wrinkles look worse. But, there are some disadvantages to liquid foundations that make it an OK option for aging skin, but not the best choice. First, it's hard to apply liquid foundation in thin layers. So if you have hyperpigmentation, or dark spots, that you need to cover a liquid foundation may not have enough buildable coverage for you. Liquid foundation is usually more of a lightweight formula that doesn't offer enough coverage.
Cream foundation is a good foundation for any skin type, and it is especially good for aging skin over 50. There's a reason why cream foundation is the go-to foundation for celebrity makeup artist and beauty experts. It provides a luminous finish that is so flattering on all skin types and skin tones.
Cream foundations let you apply your foundation in thin layers which gives you a more natural look. If you use a cream foundation like LimeLife's Perfect Foundation, the foundation won't settle into your pores, or fine lines. So it helps your skin look more youthful because you won't have to cake on layers and layers of makeup just to even out your skin tone. After all, full coverage foundation does not mean thick foundation. You want the coverage you need, using the least amount of product.
LimeLife Perfect Foundation for Aging Skin
I mentioned above that LimeLife's Perfect Foundation gives you a really natural look. You can read more about this foundation in my two articles that go into depth on how to choose a LimeLife foundation color and how to apply LimeLife foundation. Both of these articles give tons of info about the foundation, but here are a couple of highlights.
The foundation is highly pigmented. The best drugstore foundations contain less than 20 percent pigment (or color). But, LimeLife foundation is over 50% pigment. This means that you get more coverage with less product. And when you can cover more by using less, you get a more natural appearance.
LimeLife foundation is available in 34 shades. With so many different shades available, it's easy to find the perfect match.
You get customizable coverage. This goes back to being able to apply a thin layer for sheer coverage and then build-up the coverage to medium coverage. Or, continue for fuller coverage.
Natural looking finish. This foundation provides great coverage with a radiant finish.
Improving Your Skin
Now that we've talked about choosing the best foundation for aging skin over 50, let's take a look at some strategies for improving your skin. After all, the better your skin looks, the better your foundation will look. So even if you're using a powder, or liquid foundation that may not be perfect for your skin type, you can get away with it because your skin is healthier and doesn't need as much makeup.
While you can't change your skin type, you can change your skin's behavior. Here's a look at some things that can cause changes in your skin's behavior.
Environmental, or seasonal changes
Sun exposure and sun damage
Allergens
Pollutants
Hormonal changes
Medication. Certain medications dry out skin and make it flakey
Nutrition- caffeine and processed foods are not good for your skin. And, when you don't get enough water your skin becomes dehydrated.
Lifestyle- stress, lack of sleep, and poor habits for eating and drinking
Many of these items that impact your skin's behavior are temporary. Or, can change if you modify your behavior. Getting enough sleep, drinking plenty of water, eating well, and exercising are all important steps to take for a healthy lifestyle. A healthy lifestyle is good for your body, mind, and skin.
For the items that you can't control like the environment and pollutants, there are steps that you can take to help fight them. For example, by wearing broad-spectrum sunscreen every day you protect your skin from the harmful effects of UV sun exposure. And to combat allergens and pollutants look for skin care products like LimeLife's Midnight Oil Serum that is loaded with antioxidants that help skin retain moisture.
Look for gentle and all natural skin care products that won't strip away your skin's natural protective barriers. You want products that help build a shield to protect your skin from pollutants, and help restore moisture. And look for all natural ingredients like soapberry, that helps to reduce the appearance of dark spots by inhibiting melanin production.
One of the reasons that younger skin is more radiant is because it contains so much water. It has a natural dewy appearance because younger skin is well hydrated. So hydrating your skin from the inside and out is one of the best steps to a more youthful look. You may not be able to control the drop in hyaluronic acid that naturally occurs as your skin ages, but you certainly can help your skin create a shield to keep moisture in. A gentle cleanser like Dream Clean does just that.
Ways to Improve Skin Tone
In addition to tackling dry skin, a lot of women have problems with uneven skin tone as they age. The best foundation for aging skin over 50 helps even out skin tone to give you a natural look. However, you can also make adjustments to your skin care routine to help skin tone as well.
There are a few areas where women over 50 face the biggest challenges with skin tone. First, there's hyperpigmentation. Hyperpigmentation is simply when some area of your skin are darker than others. This is very common for men and women. For women the uneven skin tone can come on during pregnancy and during other hormonal changes as we age. It also can come from sun exposure and dark spots, or age spots.
Other areas where skin tone changes as we mature is under the eyes and in the upper lip area. Now some of us are predisposed to having dark undereye circles. However, for many of us it is something that starts as we get older, or becomes worse. The upper lip area is often where hyperpigmentation shows up, along with vertical lines and wrinkles.
I mentioned this briefly above, but look for ingredients that help lighten your skin and fight dark spots. I listed LimeLife's Dream Clean as one example. This gentle, foaming cleanser stops melanin production to help diminish dark spots and even skin tone. You can also look for moisturizers and serums that help.
Sotoks is a brightening serum that uses natural ingredients, like the songyi mushroom, to brighten skin and give you a more youthful glow. You can also use retinol products, or prescription Retin-A. However, if you prefer all natural ingredients then you can look for products like LimeLife's Green Smoothie. This anti-aging cream is perfect for all skin types and not only does it hydrate skin. But, it also adds density and firmness to skin. The natural alfalfa extract is a natural alternative to retinol for fighting wrinkles.
And finally, when looking at ways to improve your skin, don't forget to exfoliate. By regularly exfoliating your skin you keep it balanced and it gives you a more radiant and youthful glow. When you have a good skin care routine your skin tone will look more even. And, your pores, wrinkles, and dark spots should diminish. This gives your skin a smoother and healthier finish that is the perfect canvas for any makeup you choose to use.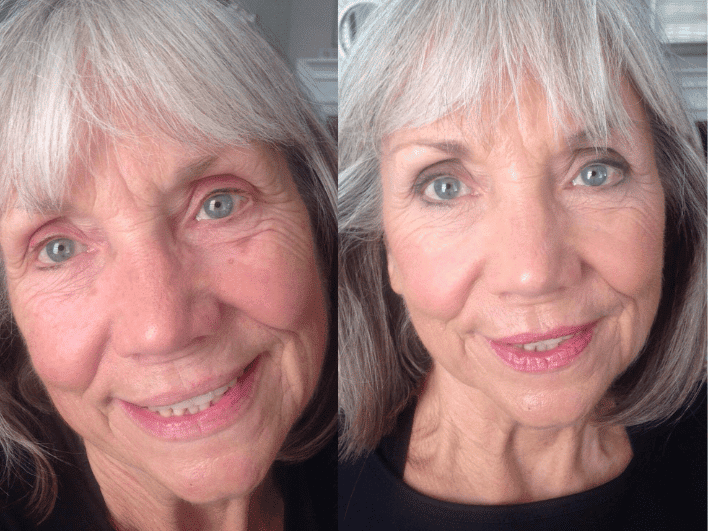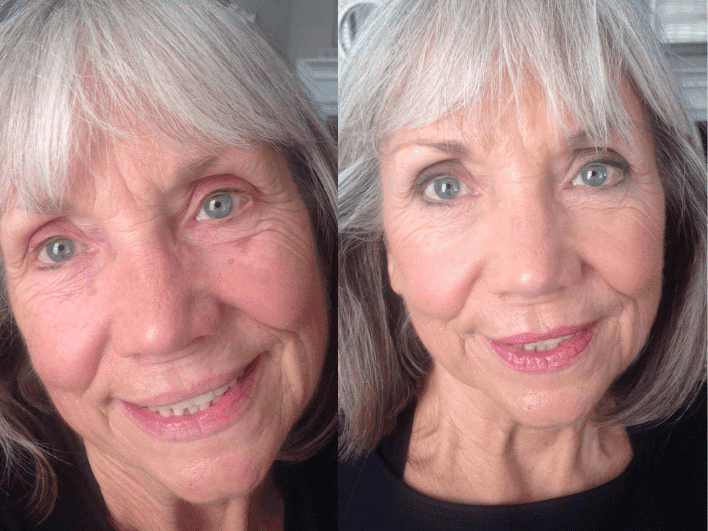 Tips for Applying Makeup on Aging Skin
Now that we've talked about the best foundation for aging skin over 50 and how to improve your skin. Let's take a look at some tips and tools that can help you look your best.
Prep your skin before applying makeup. This means applying sunscreen, and moisturizer if needed. If you have dark circles, or puffiness under your eyes, use LimeLife's NEW Eye Believe cream to get rid of those. Not only does this cream smooth your skin and diminish the appearance of fine lines, but it also lets your foundation glide on beautifully.
Use a primer as the base for your foundation. This could be a lightweight primer spray, or it could be a primer that is part of your sunscreen. But a good primer helps to hide pores, smooth skin, and gives your makeup something to hold onto. Think of it like an artist's canvas. A primer gives you a smooth finish on which to build your makeup look.
Minimize the amount of makeup you apply. Now this doesn't mean that you can't do a complete makeup look if you prefer. But, older women need to be careful about too many layers of makeup. Use thin layers of foundation to even skin tone. You don't want to cake on the makeup as this will end-up settling into your wrinkles and will not give the youthful appearance you want.
Use concealer to help cover darker spots. Here's a tip. Apply your foundation first and then use a cream based concealer to go over the spots where you need a little extra coverage. This helps minimize the layers of foundation that you need. You simply cover dark spots with a little extra concealer and you won't have to apply an additional layer of foundation to your whole face.
Set your makeup so that it lasts all day. This can be two-fold if you want. I like to set my LimeLife foundation using the Perfect Translucent Powder. This lightweight powder is a professional formula that sets your makeup and finishes off your look by absorbing any excess oil and it gives you a flawless finish. I use the Time Setter Makeup Spray as my final step. This fine mist setting spray not only sets your makeup. But, it prevents it from fading, creasing, or settling into fine lines. And I love the soft matte finish it gives and that it helps my makeup last up to 16 hours without touchups.
Summary of Choosing the Best Foundation for Aging Skin over 50
Finding the right foundation when you are over 50 is a combination of choosing the best foundation for your skin type, personal preference for the type of foundation you prefer. And, addressing your skin's behavior to help achieve the best look. It's not just a matter of finding the right foundation, but also knowing how to improve your skin to make any makeup look good. When you keep your makeup routine simple, and you use quality products that brighten your skin; you not only look younger, but you feel younger too. The youthful and radiant skin you get can't help but give you a little extra boost of confidence and youthful energy.
Additional articles you may enjoy: