Not sure how to get the right color match LimeLight foundation? No problem. We have tons of great pictures, a LimeLife foundation quiz, and tips for how to choose LimeLight Foundation color. We've made it quick and easy for you to find the right foundation color match.
About LimeLight Foundation
LimeLight by Alcone's Perfect Foundation is a wax based foundation used by makeup artists around the world. As a professional grade foundation, you'll be amazed at the coverage you get with such a tiny bit of product. This is because our foundation is more pigmented than traditional products. In fact, most foundations have less than 20 percent of color (aka pigment) and LimeLife by Alcone's foundation has over 50 percent.
You may be thinking that sounds great, but not quite sure what it means for you? Well, it means that you use less foundation because just a little bit will give you the color you need. I love this because it means that it saves you money, which is something I'm all about. And using less product also makes the foundation lighter, more natural, and more comfortable to wear.
Highlights of LimeLife Perfect Foundation
** 100% Mineral Oil Free, Lanolin Oil Free, and Fragrance Free
** Paraben-Free, Vegan and Leaping Bunny Certified
** Perfect for dry, oily, and sensitive skin
** Customizable coverage- can be as sheer as you'd like, or built up in layers for full coverage.
** Used by professional makeup artists and celebrities for decades
Find Your LimeLight Foundation Shade
Having a hard time figuring out which foundation color is right for you? Take this quiz on our foundation page to see which color is best for you. To take the quiz click on the Makeup section and scroll down to the Perfect Foundation and take the quiz.
You can also take a look at the photos below to help find the right color.  In addition to the celebrities below, the photo collages of my colleagues (aka Beauty Guides) show how each color looks on a variety of women.  If you still have questions, please don't hesitate to contact me.  With 34 shades now available, there are even more options for finding the perfect match. I am happy to help you find the perfect color match LimeLight Foundation if you need help. And remember, we offer a 30 day money-back guarantee!
LimeLife Foundation Shade Chart- New Shades 2021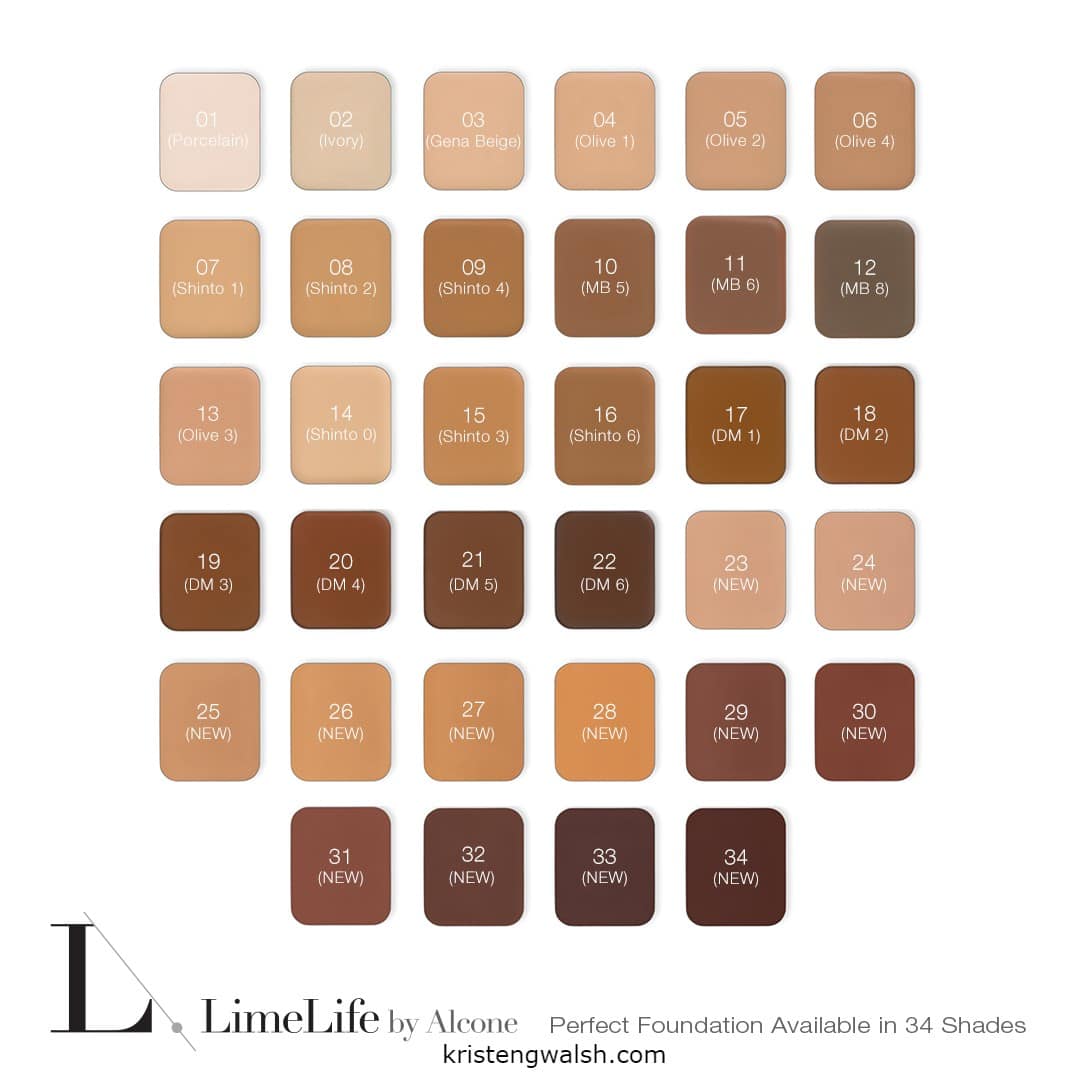 More Shades to Color Match LimeLight Foundation
I am so excited that as of March 10, 2021 LimeLife now has 34 shades of our Perfect Foundation. I've said it so many times before, but it is worth repeating. LimeLife never rests on its laurels. It is always striving to bring customers the very best, and that includes making sure that there are colors for all skin tones.
The celebrities above match to the following LimeLight Foundation Color:
A=Porcelain, B= Ivory, C=Gena Beige, D=Olive 1, E=Olive 2, F=Olive 4, G=Shinto 1, H=Shinto 2, I=Shinto 4, J=MB5, K=MB6 and L=MB8
Shop Now for LimeLight Botanical Foundation
How to Choose LimeLight Foundation Color
Finding the right foundation color match starts with understanding your skin tone. And more importantly, the undertone. If you are not quite sure how to know what your undertone is, you are not alone. I mean when you talk about pink undertone vs peach undertone it can sometimes be tricky. But don't worry, here's a little trick to help. Think about how your skin reacts in the summer and this can be a clue to understanding your skin tone. Also, looking at the color of your veins can help. Let's take a look at each undertone and the tips for identifying each one. Knowing your undertones is the key to how to choose limelight foundation color.
LimeLight Botanical Foundation For Cool Undertones
If you have skin that burns when you're out in the sun, then you have pink or red undertones. This is also known as having cool undertones. There are a couple of easy steps to determine your skin's undertone. The first is to look at your veins. When you look at your veins, if they look more blue then you have a cool undertone. And, silver jewelry usually looks better on you than gold. The foundation colors that would fit your skin tone are numbers 2 (formerly called Ivory), 24, 4(Olive 1), 5(Olive 2), 6 (Olive 4), 20(DM4), 21(DM5), 31, 22(DM6) and 33.
Find Your Perfect Foundation Shade by Clicking Here. Go to Makeup section and scroll down to the Perfect Foundation and take the quiz.
Pictures of Foundation for Cool Undertones
Ivory Foundation (Color 2)
Olive 1 Foundation (Color 04)
Olive 2 Foundation (Color 5)
Olive 4 Foundation (Color 6)
Perfect Foundation For Neutral Undertones
People with a neutral undertone have a balanced tone. There isn't too much pink or yellow in the skin tone. I like to think of neutral tones as more of a peach tone. Your skin tends to burn at first, but then turns into a tan. Your veins may look either blue or green. And, you can pull off either silver or gold jewelry. It truly is a balanced tone that falls right in the middle.
Pictures of Neutral Undertone Foundations
Gena Beige Foundation (Color 03)
Olive 3 Foundation (Color 13)
LimeLife Foundation for Yellow Undertones
The last group of LimeLife foundation colors fall into the yellow category. This category is also referred to as having warm undertones. If your skin has yellow or orange undertones it tans easily. All of the former Shinto shades fall into this category. Skin with yellow undertones has gold, yellow, or orange underneath. Your veins appear blue-green in color and gold is definitely your preferred color when wearing jewelry.
Pictures of Yellow Undertone Foundation Shades
Shinto 1 Foundation (Color 07)
Shinto 2 Foundation (Color 08)
Shinto 3 Foundation (Color 15)
Shinto 4 Foundation (Color 09)
Shop Now for LimeLight Botanical Foundation
LimeLight Foundation Shades-How to Choose the Right Color
The graphic below doesn't include the new shades, but I still like it because it is a helpful guide. I think the foundation swatches give you a good look at the tones for the foundations that fall into the 3 categories: cool undertones (pink), neutral undertones(peach), and warm undertones(yellow).
Related Makeup and Foundation Articles
LimeLife Foundation- How to Apply And Make It Last All Day
How to Choose LimeLight Foundation Color
I hope seeing all of the pictures and taking our LimeLife foundation quiz (on the Perfect Foundation page under Makeup) helped you find the right foundation shade for you. The quiz also gave you the perfect concealer color that goes well with your foundation color. You can purchase our foundation individually, or in a combo palette with our concealer.
I love this palette because you custom-build it to be perfect for your skin tone. Pick your foundation and then add 2 concealers. I like going with one concealer color that closely matches my foundation and skin tone. I use a second concealer shade that is lighter. A lighter shade is great for applying under your eye, or as an eyeshadow primer. However you build it, you get great value with our Perfect Complexion Palette.