There's nothing more fun than a surprise delivery in your mailbox. With the LimeLife Amazebox makeup subscription, you get a special surprise every month. Not just full of LimeLife makeup, the Amazebox has a great mix of LimeLife products. That's part of the fun, you never know what to expect.
What Is In The LimeLife Amazebox
Well you know I can't give away that little secret. Actually, the truth is that no one knows until the LimeLife Amazebox arrives in her mailbox.
Every box includes a mix of makeup, skincare, tools, and monthly inspiration. Maybe it's a recipe that's perfect for that month, or a special makeup tip. Let's take a look at some of the LimeLife products that have been in past Amazeboxes.
LimeLife Amazebox Products
I'm not sure which month the box above was delivered, but it looks like it was a birthday or anniversary themed box. The LimeLife products included were Sotoks, Time Setter Setting Spray, Make-Off Makeup Remover Spray, and a LimeLife lipgloss. What an amazing mix of products. It's no wonder the box is named Amazebox.
How Much is The LimeLife Amazebox
Although I can't tell you what is included every month, I can tell you that the LimeLife Amazebox makeup subscription is guaranteed to include products with a value greater than $50. This is more than what you pay each month ($42), so it's a great value right there.
One of the things that I love about this beauty box is that it comes with such a variety of products. For me this makes it a great gift idea for Mother's Day, a birthday, or for the Holidays. And even if you didn't want to gift the subscription to someone, you could use the products to create your own gift sets. Or, split the subscription with your sister or friend. This way you get to split the cost with someone. And, you still get to enjoy the excitement of a monthly surprise.
Examples of LimeLife Makeup Subscription
Here's a look at some more examples of the LimeLife Amazebox makeup subscription box.
January kicked-off the New Year with a Pom Bomb, which is a LimeLife bath bomb that only comes out for special occasions. Infused with our one drop wonder, this pom bomb is a luxurious treat at the end of a long day. Also included in this box was our Raining Zen shower gel, Blenderful, and a LimeLife lipgloss.
Pictures of LimeLife Amazebox Makeup Subscription
The collage of pictures above shows such a variety of products. From LimeLife by Alcone's Bronzing Lotion, One Drop Wonder face oil, and the new Waterproof Mascara that was introduced in 2020. I think one of the best parts of being part of a monthly makeup subscription is that you get access to new products and limited edition items. I guess that's why the subscription usually sells out quickly and people go on the waiting list for this exciting service. The LimeLife Amazebox makeup subscription is now available and you can find it on the website under New.
Pictures of LimeLife Amazebox
April Amazebox Subscription
My self proclaimed name for the April Amazebox is "summer fun". Everything in this month's box is all about getting ready for summer. Let's start with Bamboo Renew. This body scrub is my favorite way to shave my legs. The foaming scrub gives me silky, smooth legs.
Of course when you're ready for some sun don't forget the sunscreen. And if you get too much sun, or your just need a refreshing finish to your day, top it off with LimeLife's After-Glow sun gel. And when you need makeup that will stay on ALL DAY, there's no better choice than LimeLife's Making Waves Waterproof Mascara.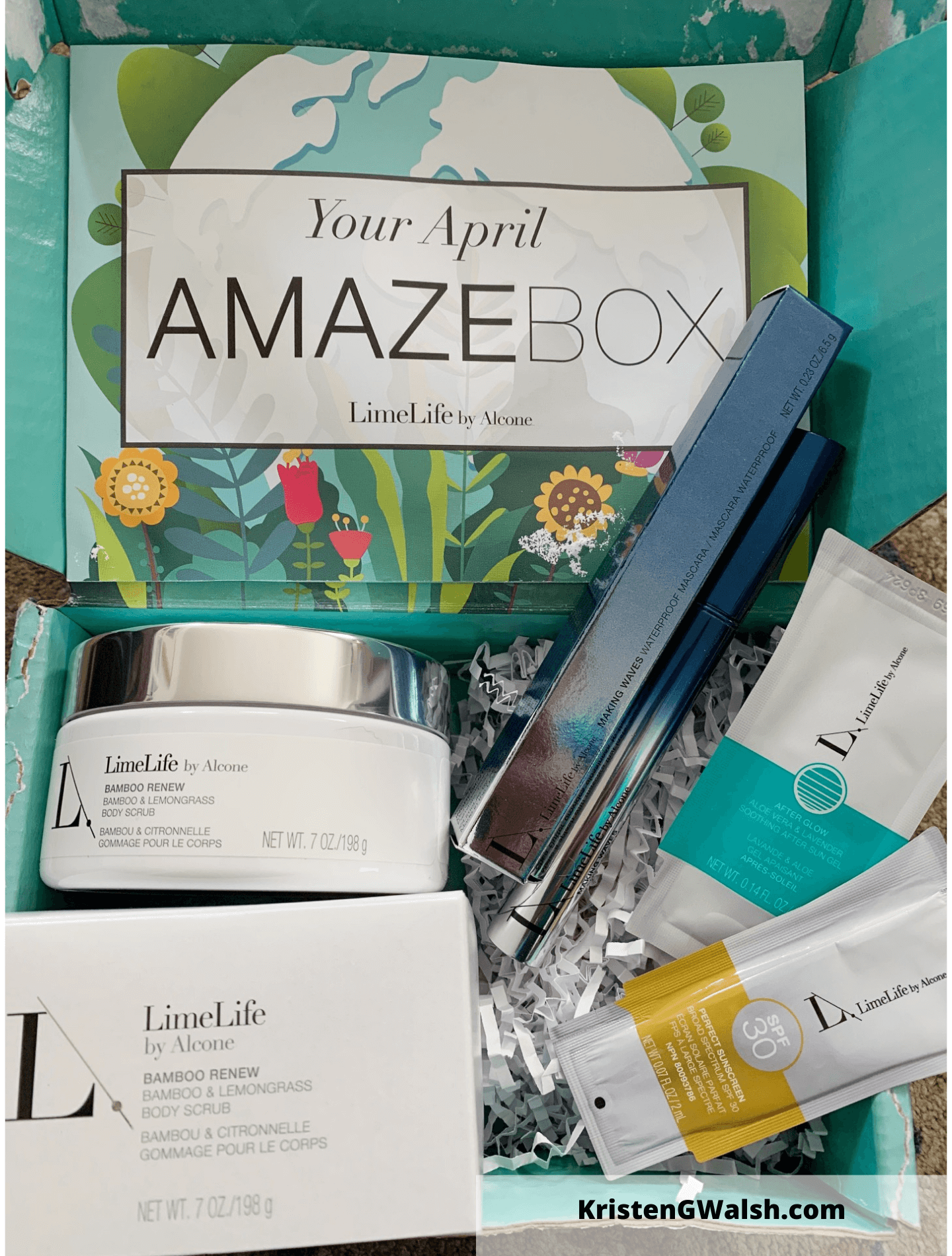 See you next month for pictures of the latest LimeLife Amazebox Subscription Box.