There's nothing more fun than a surprise delivery in your mailbox. With the LimeLife Amazebox makeup subscription, you get a special surprise every month. Not just full of LimeLife makeup, the Amazebox has a great mix of LimeLife products. That's part of the fun, you never know what to expect.
What Is In The LimeLife Amazebox
Well you know I can't give away that little secret. Actually, the truth is that no one knows until the LimeLife Amazebox arrives in her mailbox.
Every box includes a mix of makeup, skincare, tools, and monthly inspiration. Maybe it's a recipe that's perfect for that month, or a special makeup tip.
I just passed the 6 month mark of being an Amazebox subscriber and it has been so much fun getting a new box every month. An exciting perk to hitting the 6 month anniversary is that I received a special bonus gift, on top of my usual October delivery. And what a gift it was!
Bonus Gift Received for Being a Loyal Customer
I thought maybe I'd receive something small, but I was blown away when I received a Soap and Joy set AND the Twenty-One Collection. The Soap and Joy set was one of my favorites from our 2020 Holiday Collection. The set includes our creamy hand soap that I love. As someone who always gets cracked hands during the winter, this soap was a lifesaver and kept my hands smooth and hydrated all winter. Pair that with the tube of Forty Cure Cream and this set is the perfect combination. The collection sold for $68 last year and I was beyond thrilled to get this as a bonus gift this month.
On top of the Soap and Joy set, I also received the Twenty-One Collection. This collection has all the essentials you need, especially for a night out on the town. It includes a special Enduring Eyeliner Duo in Champagne and Color 21. Plus, a mini Waterproof Mascara and an adorable cosmetics bag to carry it all. This collection sold for $48. So between these two collections, the gift I received from LimeLife by Alcone would have cost me $116 if I purchased it on my own. What an amazing gift and all for being a loyal customer for 6 months!
Is the Amazebox Worth It
We already know that the customer appreciation gift is amazing, but are you wondering about the value of the monthly subscription boxes I received? Pictures and a summary of everything that I received each month is outlined below, but here's a quick rundown of the value of the products in each subscription box.
October 2021 ($90)
September 2021 ($60)
August 2021 ($68)
July 2021 ($62)
June 2021 ($54)
May 2021 ($56)
April 2021 ($64)
When I average out the value for each monthly box, it comes out to over $75 per month. Isn't this amazing? And I didn't even include a value for samples. I only added up the actual products included in each box. That is incredible. I spent $42 each month and received $75 in LimeLife products. Now if that isn't a great value (aka bargain) I don't know what is!
LimeLife Amazebox Products
Let's take a look at some of the LimeLife products that have been in past Amazeboxes.
I'm not sure which month the box above was delivered, but it looks like it was a birthday or anniversary themed box. The LimeLife products included were Sotoks, Time Setter Setting Spray, Make-Off Makeup Remover Spray, and a LimeLife lipgloss. What an amazing mix of products. It's no wonder the box is named Amazebox.
How Much is The LimeLife Amazebox
Although I can't tell you what is included every month, I can tell you that the LimeLife Amazebox makeup subscription is guaranteed to include products with a value greater than $50. This is more than what you pay each month ($42), so it's a great value right there.
One of the things that I love about this beauty box is that it comes with such a variety of products. For me this makes it a great gift idea for Mother's Day, a birthday, or for the Holidays. And even if you didn't want to gift the subscription to someone, you could use the products to create your own gift sets. Or, split the subscription with your sister or friend. This way you get to split the cost with someone. And, you still get to enjoy the excitement of a monthly surprise.
Examples of LimeLife Makeup Subscription
Here's a look at some more examples of the LimeLife Amazebox makeup subscription box.
January 2021 kicked-off the New Year with a Pom Bomb, which is a LimeLife bath bomb that only comes out for special occasions. Infused with our one drop wonder, this pom bomb is a luxurious treat at the end of a long day. Also included in this box was our Raining Zen shower gel, Blenderful, and a LimeLife lipgloss.
Pictures of LimeLife Amazebox Makeup Subscription
The collage of pictures above shows such a variety of products. From LimeLife by Alcone's Bronzing Lotion, One Drop Wonder face oil, and the new Waterproof Mascara that was introduced in 2020. I think one of the best parts of being part of a monthly makeup subscription is that you get access to new products and limited edition items. I guess that's why the subscription usually sells out quickly and people go on the waiting list for this exciting service. The LimeLife Amazebox makeup subscription is now available and you can find it on the website under New.
Pictures of LimeLife Amazebox
April Amazebox Subscription
My self proclaimed name for the April Amazebox is "summer fun". Everything in this month's box is all about getting ready for summer. Let's start with Bamboo Renew. This body scrub is my favorite way to shave my legs. The foaming scrub gives me silky, smooth legs.
Of course when you're ready for some sun don't forget the sunscreen. And if you get too much sun, or your just need a refreshing finish to your day, top it off with LimeLife's After-Glow sun gel. And when you need makeup that will stay on ALL DAY, there's no better choice than LimeLife's Making Waves Waterproof Mascara.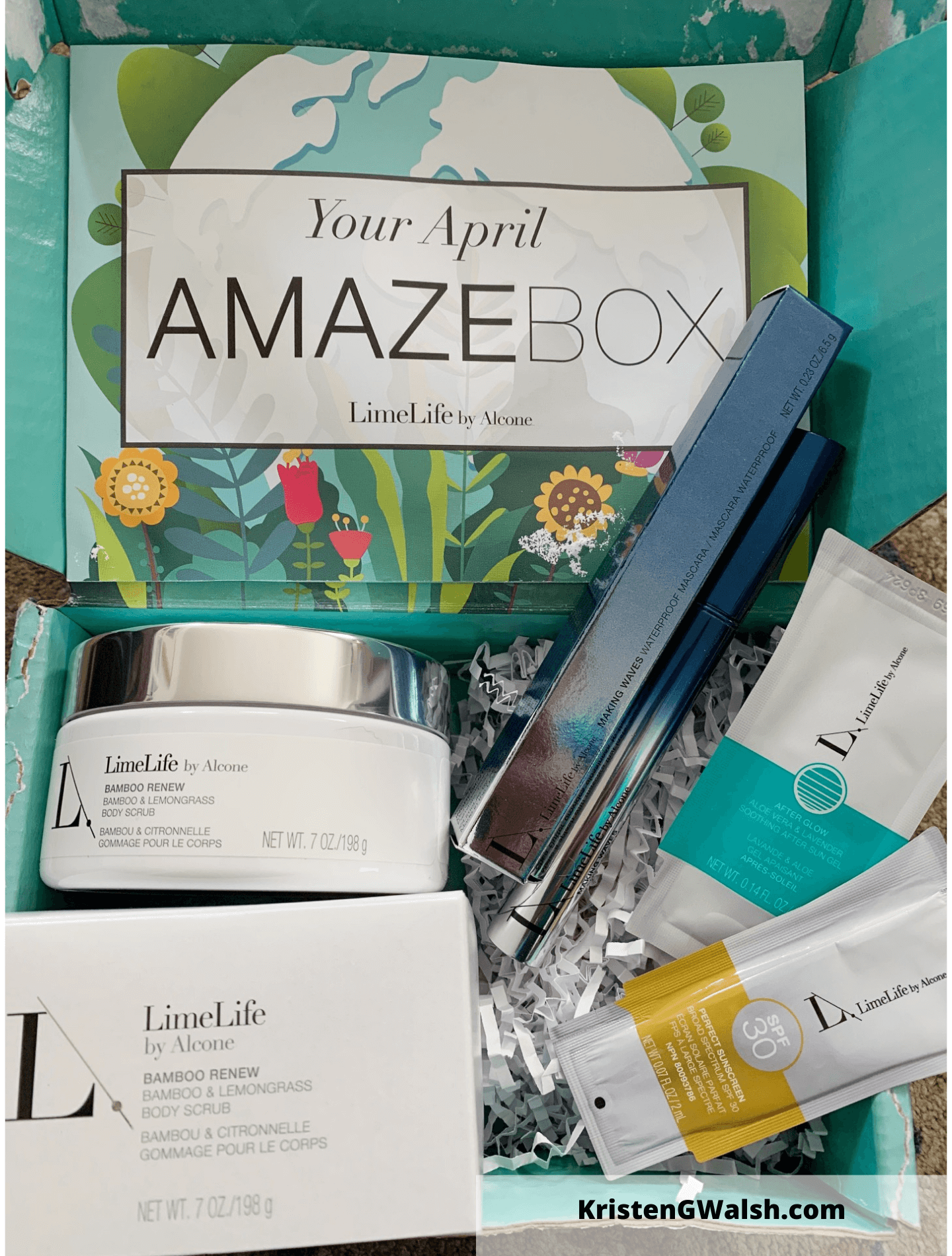 May Amazebox Subscription
The May Amazebox has one of my favorite products and not just a sample size. It includes a full size tube of Forty Cure Cream. This amazing hand and body cream is a life saver no matter the season. It can soothe skin that got a little too much sun, and it can hydrate dry and chapped winter skin. And for those who suffer from eczema or psoriasis, LimeLife's Forty Cure Cream is the therapeutic cream you've been searching for. This month's Amazebox also included a full-size Perfect Lip Balm. Another year-round staple to carry in your bag wherever you go.
June Amazebox Subscription
The June Amazebox seems to celebrate the freedom to go mask free and to show our smiles out in public for the first time in a year for many of us. Everything in this month's box is all about having perfect lips. It includes the Perfect Lip Scrub to give you silky, smooth lips. Top that with LimeLife's Perfect Balm Sunscreen for Lips with SPF to protect your lips this summer. And, for a little shimmer add LimeLife's Perfect Lip Gloss. The box came with the clear version, but LimeLife has so many beautiful colors to try. The box also included a sample of LimeLife's new Glowing Green exfoliating toner pads.
July Amazebox Subscription
The Amazebox for July 2021 includes a full tube of LimeLife's Charged Up Shaving Cream. This shaving cream was originally released as part of our men's skin care line, but I can tell you it's a great product for men and women alike. You'll love the silky, smooth shave you get with this shaving cream. To make sure that you get every last drop out of the tube, this month's box also includes "The Key" to help squeeze all the way down to the bottom. This month's subscription box also includes a sample of LimeLife's best selling Sotoks, plus a full tube of LimeLife Perfect Lipstick in color #202 (Plum Luck). This is my FAVORITE color. It's a sheer purple that looks great day or night and for every occasion.
August Amazebox Subscription
There's still plenty of summer left so don't skip the sunscreen. The August 2021 beauty subscription box from LimeLife includes a full tube of Perfect Sunscreen for Body. This tube is HUGE! With almost 6 oz of cream, this broad spectrum mineral sunscreen uses non-nano, reef-safe zinc to protect you from both UVA and UVB rays. The box also includes a sample of the Perfect Glow Bronzing Lotion. This lotion is just what you need when your summer tan fades, but you still want a healthy glow. Last but not least in this month's box is the Strike Rich Brow Gel. I received the clear shade, but it also comes tinted in light, medium and dark shades to shape and fill-in your brows.
September Amazebox Subscription
The September box included a full tube of LimeLife's Cool Down moisturizer. I admit that I wasn't thrilled to get this because it's designed for men, but then when I read the description I realized that I may like it. Not only is it loaded with Aloe Vera to hydrate skin, but it also includes ingredients to help reduce dark spots, minimize the signs of aging and brighten your complexion.
This product is a great example of why beauty boxes from LimeLife can be game changers. I never would have spent the money to try this moisturizer myself, but now I can give it a try and I know I'll love it. Also included in the September box is an Enduring Eyeliner Duo in Work Hard/Play Hard and a travel-sized tube of Forty-Cure Cream. This is a must have to carry in my bag, especially during the winter months when my hands are so dry.
October Amazebox Subscription
The October 2021 beauty subscription box from LimeLife includes a great mix of LimeLife products. It includes our best-selling Perfect Mascara, along with a Mini Perfect Lip Gloss. These are two of my favorites so I was thrilled to get them. I was even more thrilled to see that they chose the color Grace for the lip gloss. It's such a beautiful color and is perfect for all makeup personalities. Whether you like a light and natural look, or you prefer to go all-glam. This color is perfect dressed up or down.
Other items in the October box include a full-size Pink Grapefruit Bar Soap and a 5-Pack of Mini Blenderfuls. These makeup sponges are perfect for applying foundation or concealer around your eyes and nose. And, they are the perfect size to take on the go. This month's Amazebox is pretty in pink as it celebrates Breast Cancer Awareness Month.
See you next month for pictures of the latest LimeLife Amazebox Subscription Box.