A LimeLife sale doesn't happen every day. So when the company puts a sale, special or discount together, you better believe it's something to grab before it's gone. Most specials are limited edition collections designed for a specific holiday. On this page I'll highlight the current specials and while I try to keep it up to date, some items may go out of stock before I have a chance to update it.
Brighter Together Bundles That Help Others
Every month LimeLife puts a product on sale that supports the Brighter Together Foundation. LimeLife created the Brighter Together Foundation a few years ago to support, educate and empower women around the world. We have makeup collections that are always available, but from the 1st to the 4th of every month, we have a special sale on one product (or bundle). There's always a discount (aka savings) but on top of that, $2 from each bundle will benefit the Brighter Together Foundation.
LimeLife Sale This Month
The product on sale for June 2022 is the Blenderful. From June 1 to June 5th at 9am you can save 20% on the Blenderful. And, $2 will go towards to the Brighter Together Foundation. Because this item is so popular and this is an amazing price, LimeLife has set a cap of 3 as the maximum number you can purchase for this sale.
What makes the Blenderful more than just a makeup sponge? Well, this non-latex sponge was designed to be a multi-purpose tool. The pointy side gives you the precision to gently apply foundation around your eyes and nose. While the flat side lets you quickly and efficiently apply makeup to your face and neck. With the ability to use the Blenderful with cream and powder, this tool is truly a multi-purpose workhorse. And since you can use it wet or dry, it also gives you great flexibility and versatility.
Mens Skincare Gift Set
Just in time for Father's Day, LimeLife has their men's skin care products on sale. Pick up an individual cleanser, balm, or shaving cream. Or, save even more with a bundle. This mens skincare gift set is the perfect way to pamper Dad. I know you may be thinking that Dad's usually need something more "manly" for Father's Day, but I can tell you that men love these products. And, I know that any guy would be thrilled to get LimeLife's Power Start exfoliating cleanser, or Charged Up Shaving Cream. Want to know a secret? Women love these products too, so now is the perfect time to take advantage of this 20% off sale and stock up. on these best sellers.
LimeLife Free Gift With Purchase
In addition to the LimeLife Sale to support the Brighter Together Foundation, each month there is also an additional gift with purchase. LimeLife loves to reward customers and show their appreciation for your business and support. So when you spend over $100 they include Free Shipping with your order. And, this month when you spend over $125 you receive a travel size Dew Confidence.
Have you tried Dew Confidence yet? This body treatment oil is amazing! I have to admit that I was a little reluctant when I first started using it. As a person who grew up with oily skin and breakouts I always get nervous about oils. And yes this is a body oil and not meant for your face, but you get my drift. I was a little nervous to give it a try. But I was increasingly unhappy with the skin on my neck and the "tech neck" I was getting from spending so much time on my computer. So I gave Dew Confidence a try and never looked back. I loved it!
Jump out of the shower and immediately treat your skin to Dew Confidence firming body treatment. Your skin will soak up this oil to not only moisturize your skin, but to firm it as well. Dew Confidence is awesome at tightening the skin on your neck, helping with stretch marks, and improves the elasticity of your skin.
Dew Confidence Helps:
Tighten and firm skin
Help with lines and loose skin on neck and hands
Reduce the appearance of stretch marks and loose skin
Moisturize your skin for a youthful appearance
Soothe your skin and the aromatic scent is soothing to your soul after a long day
Create Your Own LimeLife Gift Sets
Our Lip bundle was so popular for Christmas last year that LimeLife brought it back again this year. Our Valentine's Sale has passed, but hopefully we'll see the Lip Bundle again in 2022 for a summer sale or another holiday throughout the year. With this special you get to choose any two LimeLife lip products to create the perfect lip combo. From our Enduring Lip Liner and Enduring Lip Colors that give you great color that lasts for hours; to our Perfect Lip Gloss and Perfect Lipsticks that are great on their own or worn together. So many ways to layer and wear our lips colors to get the perfect look! You could also include our Lip Balm or Lip Scrub as options.
The LimeLife lip bundle sale is such a great deal. I think it's a great gift set for any occasion. It's the perfect price point for a variety of holidays and occasions, so you can put a bundle together for Mother's Day, birthdays, or to stock up on holiday gifts. So even when this lip bundle is not on sale, you can still create your own bundle by purchasing two LimeLife lip products to pair together.
LimeLife Gift Ideas
You can create your own gift sets when you bundle LimeLife products that work perfectly together. Here are a couple of our favorite pairings that are great gift ideas.
What makes a gift special? Getting someone something she wouldn't get for herself. That's why I love our RIKI mirror as a gift idea. Whether you choose the RIKI Skinny by Glamcor, or go with the RIKI Skinny or Cutie, these lighted mirrors are a special treat that anyone would love to unwrap. The skinny mirror is especially great for someone who makes YouTube videos. The mirror gives you great lighting and the tools you need for streaming. With a Bluetooth selfie function, you can take great selfies with perfect lighting. The magnetic phone holder lets you follow along with makeup tutorials. Or, create your own YouTube videos with ease.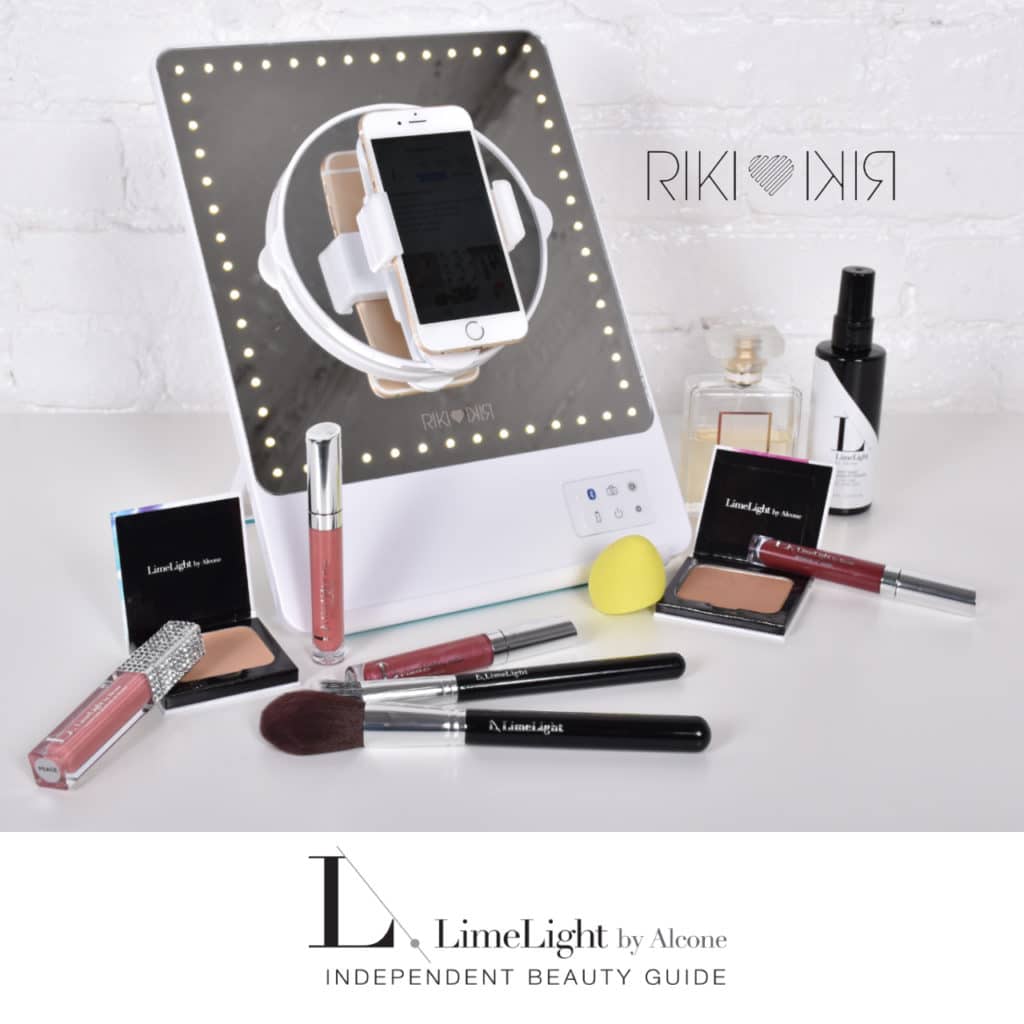 LimeLife Sale Recap
December is such an exciting time for LimeLife with all of the amazing sales going on. But, every month feels a bit like Christmas with the LimeLife sale and free gift with purchase promotions. These special products and prices are only while supplies last and are for a limited time.
To check out all of the makeup and skin care on sale by visit LimeLife and clicking on the "New" section.
Related Articles:
You can take a look back at last year's Christmas Sale in my holiday post and also on my makeup gift sets page. I'll update these pages as soon as I have news on the 2022 Christmas Sets.