You found the perfect outfit and now you need to know what color lipstick with light pink dress is best? Should you try to match the color, keep it neutral, or go bold? Here are some tips and easy ideas for finding the best color.
How to Choose a Lip Color
There are several different things to look at when deciding what color lipstick to pair with a light pink dress.
Based on Skin Tone: The first thing you can look at is your skin tone. This will help you choose what shade looks best for the undertones in your skin (cool, warm, neutral). Looking at your skin tone also helps find a color that blends nicely and won't be too much.
For instance, if you have really fair skin that burns easily, you most likely have pink or red undertones. Someone with pink undertones, or red undertones, in their skin looks better in silver jewelry than gold. And, the veins on the back of your wrist are blue. An orange shade, or deep brown probably wouldn't be the right choice for this skin tone as those are warmer tones that would not blend with your cool undertones. The right color lipstick should complement your skin tone and your outfit, not over power it.
Based on Color of Your Dress: Another option when looking for what color lipstick with light pink dress is to match the dress color. This doesn't always mean an exact match. Instead, you can take the same color and either tone it down, or make it brighter.
This is where you can look at the type of lipstick that you prefer too. For instance, do you want to go with a matte lipstick, or do you prefer a color that has more shine? Another great tip for sticking with the same color as the dress is to layer your lips to change the color slightly. As an example, you could use a lip liner to blend with your lipstick to create a slightly different hue for the pink shade.
Layering lip color is also a good trick when you have a beautiful dress, but trying to match the lip color isn't working. Let's use coral as an example. This is a gorgeous color that is in the pink family, but it has more orange mixed with it. This may not be the color you want for your lips, or perhaps you don't think it's the best choice for your skin tone. Especially if you try to go with an orange lipstick as this doesn't look good on everyone.
As an alternative, you can turn a coral lipstick either more pink, or more brown, depending upon the underlying lip liner you use as a base. Or, you can use the same trick but instead of adding color under your lipstick you can add it on top instead.
Based on Overall Look: When choosing a lipstick color you can always look at the overall look of your outfit. For instance, are you head to toe light pink or have you mixed in other colors? Do you want your lipstick to blend with the outfit or be an unexpected surprise by using a contrasting color?
Complementary Colors: When thinking about complementary colors, this is where a color wheel is helpful. When you look at a color wheel, the colors opposite each other work well together. For example, light pink on the color wheel is across from green and blue colors. Now you may not want to go with a blue lipstick, but you can use a color that has more blue undertones in it. Or, use the color wheel to find the colors next to pink to find the complementary colors. In this case, purples and red can be great choices.
Event or Style: Another thing to consider when trying to decide what color lipstick with light pink dress is to think about the style of the dress. Or, the type of event. For example, is it a casual summer dress? Or, is it a full length gown for a special occasion? What is the overall look and style you are going for?
If it's a casual dress, or something for an everyday look, you can choose lighter pink. Or, colors that are more sheer. This is when you may prefer a pink lip gloss or pink lip balm instead. You'll get a subtle pop of color that is light and easy to wear.
The event and style can also dictate the type of finish you prefer. A matte lipstick is more natural, or neutral. Whereas, a lipstick with shine can gives you a brighter, or bold look.
Best Lipstick Shades
Now that you've thought about what shade is best for your skin tone. And, what color you think is best for your overall look and style. Let's take a look at some options.
Best Pink Lipsticks: If you decide to go with pink for your lips you really can't go wrong. You have so many options. Ranging from light pink lipstick shades all the way to deep pinks. Or, really bright and vibrant colors. You can't go wrong with pink!
I really love going with a hot pink lipstick to contrast a light pink dress. It keeps the color in the same family as the dress, but just bumps it up a notch. And if you go for a glossy finish instead of a matte finish, it really shows off your lips.
Purple or Red Lipstick: If you want to shy away from pink but still want a colorful lip, you can always go with a purple shade. Or, for a bolder lip choose a red shade or even a burgundy lipstick. I am more partial to purple tones. First, I find that there are great colors that are a pink and purple mix. Also, I like purple tones because they tend to complement any skin tone. And, look great with any outfit. This means that you get great value choosing a lipstick that you can wear everyday.
Neutral Shades: If you've decided that you don't want to go with a pink lipstick, nude colors are a great choice. By going with a nude lip, or neutral shade of lipstick, you really get a beautiful look that is perfect for any occasion. Or, any style. Neutral shades vary quite a bit, so you can choose one that has a pink undertone. Or, one that has more brown in it. I think that lighter shades of nude lip color looks beautiful with a pink dress.
When choosing a nude shade be sure to consider your skin tone. The range of neutral colors can be huge with such a wide range. As I mentioned, some neutral colors have a pink undertone. But, many have brown, orange, or yellow undertones. You want to be careful so that it blends with your skin tone and you get the neutral look you're going for.
You can also vary the depth of color you go for with your nude lipstick. Go with a neutral color that matches your lip color exactly and then just bump up the color a bit to a darker shade that adds a little more depth.
Best Lip Gloss Colors
In addition to lipstick you could also choose to use lip gloss. Lip gloss tends to be more sheer, so this is a good choice for people who want color but want it to be a little more subtle. Like lipstick, lip gloss comes in a variety of shades. You can wear a light pink like Grace, or a really pretty purple like Dream or Inspire by LimeLife.
Lip Balm: For every day color, or more casual looks, lip balm can be a good choice too. Usually lip balms are not available in as many colors, but most brands carry a pink or red shade. LimeLife offers the Perfect Lip Balm in Pink Grapefruit and Dragon Fruit.
Barbiecore Fashion Trend
The biggest trend of 2022 is the Barbiecore Fashion trend. New York fashion week was filled with Barbie pink outfits and this trend has really taken off. Whether you choose to go head to toe in this bright color. Or, you simple use the bold color as an accessory to your outfits, you can continue the theme with the lipstick you choose.
The Barbiecore shade of pink is much brighter than what we've been talking about for what color lipstick with light pink dress is best. You may not be wearing a hot pink dress, but you can still play-off the trend by adding bold lip colors to have fun with the trend. And although the trend my be for a brighter pink outfit, you can add your own twist to the trend. The color of the dress doesn't have to be so bold and bright. If you prefer pale pink dresses instead, then go for it!
Pictures of Lipstick Suggestions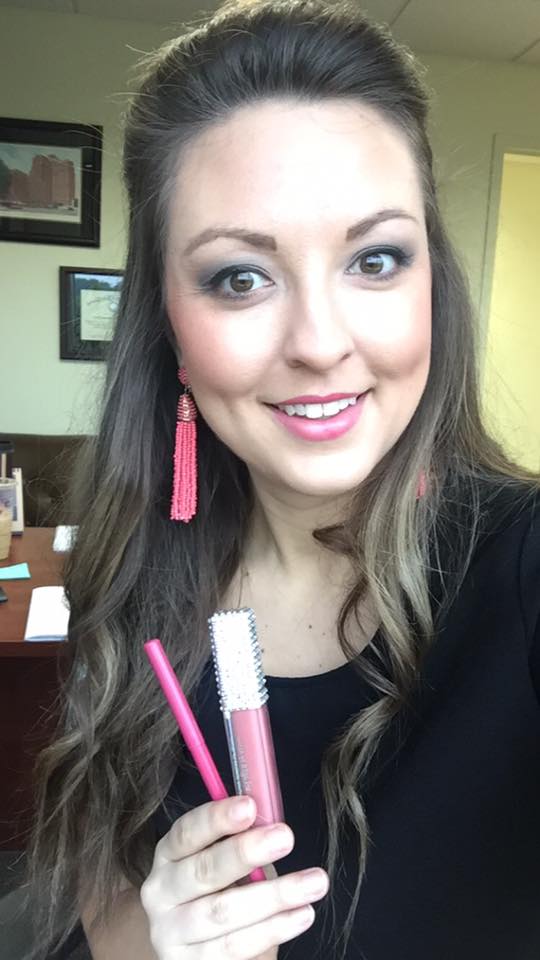 I love this pink lip using LimeLife's Lip Liner in Festive Pink, topped with Perfect Lipgloss in Peace. Such a pretty combo that you can really play around with to change-up the intensity. Go lighter on the lip liner for a softer pink color. Or, use more for a bolder pink shade. Such a versatile look that's perfect for wearing with any outfit, but especially pretty with a light pink dress.
Recap of What Color Lipstick With Light Pink Dress
I hope you found a great color to go with your light pink dress. Or, that you at least found the information you need to feel confident about choosing lip color based on your skin tone, style, and look you hope to achieve. You have so many great options when it comes to choosing a lip color to go with a pink dress.
Related Articles: Learn more about skin and undertones by reading my article about how to choose the right foundation shade