When it comes to eye makeup you may be wondering which is better, eyeliner or eyeshadow. Each one has its benefits, so let's take a look at each. In this article we'll run through the difference between eyeliner vs eyeshadow. And, give some easy tips for how and when to use each.
What is Eyeshadow
Let's start the debate with a look at eyeshadow. Eyeshadow is used to create a variety of makeup looks. Eye shadows come in a range of colors and they can be used to create depth and a dramatic look. Or, you can stick with a neutral shade to even the skin tone on your eyelids and to act as a primer before applying eyeliner.
Pros of Using Eyeshadow
One of the key benefits of eyeshadow is that it is extremely versatile. This is probably the key difference when it comes to eyeliner vs eyeshadow. Where eyeliner is usually limited to just outlining the natural shape of your eyes, eyeshadow can redefine the look and give you a new shape to your eyes.
Plus, eye shadow can also be used as an eyeliner. Or, to fill in your eyebrows. You can even mix eyeshadow with petroleum jelly to create your own lip gloss. Or, apply it to your face as blush or highlighter. With so many ways of using eyeshadow, it really is much more versatile than eyeliner. So if you could only afford one, you may get more bang for your buck with eye shadow.
Types of Eyeshadows
There are two primary types of eyeshadows that you can use, cream eyeshadow and powder eyeshadow. Cream eyeshadows are more limited in colors and ways that you can use them. The one benefit with a cream eyeshadow is that it's really easy to use. And, if you use an eyeshadow stick it's not only an easy application but it's also really portable. But to get the most out of eyeshadow, powder eyeshadows really are the way to go. This is the go to product for makeup artists and is what I'll focus on for the discussion of eyeliner vs eyeshadow. 
How to Use Eyeshadow
With eyeshadow you can create a lot of different looks. If you want a smoky look you can achieve that using dark colors to create a bold look. Or, go for a subtle look using light colors on the lower lid to help make your eyes pop. Depending upon where and how you apply the eye shadow, you can get different effects. This is why eyeshadow is so versatile. There's no limit to the type of looks you can create with the variety of colors available.
Use Eyeshadow as Eyeliner
To turn eyeshadow into eyeliner you have a couple of options. You can simply use water to moisten the shadow so that it becomes a liquid form. The one challenge I've had doing it this way is I usually can't get the color to be as bold as I'd like. And, I don't feel that it lasts throughout the day. 
That's why my favorite way to turn eyeshadow into a liquid eyeliner is to use a setting spray instead of water. I simply spray a little into the palm of my hand and then I dip a small eyeliner brush into the spray. After the brush is wet I dip it into the shadow and voila I have the perfect DIY eyeliner. With this technique and using a very fine brush, you can even use eyeshadow instead of eyeliner on the lower lash line.
Video of How to Use Eyeshadow as Eyeliner
How to Use Eyeshadow for Eyebrows
Powder eyeshadow is also the perfect way to define your eyebrows. Not only can you fill in your eyebrows, but you can add definition to them as well. The best way to get a natural look when doing your eyebrows is to use short strokes and a stiffer brush. It's amazing the difference a well-defined eyebrow makes to the overall makeup look. 
Other Ways to Use Eyeshadow for Makeup
As I mentioned above, you can definitely take advantage of the versatility of eyeshadow. You can save on makeup products just by using eyeshadow as a multi-purpose product. You can mix it with petroleum jelly to create a lip gloss. Or, mix it with a serum or moisturizer to create blush, bronzer, or highlighter. Basically any place where you want a little color, you can use eyeshadow. You can even use it to help contour.
What is Eyeliner
Now let's take a look at eyeliner. Overall, eyeliner is more limiting than eye shadow because it doesn't have as many uses. However, that doesn't lessen its importance or impact. To me eyeliner is one of the few products that I use every day. All it takes is a little eyeliner and mascara and you can create a range of looks. From a bold and dramatic cat eye, to delicate and subtle crisp lines.
Different Types of Eyeliner
There are two general types of eyeliner. There is the felt tip liquid eyeliner pen. Or, a gel eyeliner pencil. Each one creates a different type of line and gives a different look.
Benefits of Eyeliner Pens
A felt tip, or brush-like eyeliner pen lets you draw a super fine line. This lets you draw a thin line right along the lash line. This helps make your lashes look fuller. Although an eyeliner pen lets you draw a thin line, you can also use it to draw a thick line. This makes it the perfect eyeliner to use for a winged eyeliner look, or cat's eyes. You can create a lot of different effects with this type of eyeliner and it's also a great choice for beginners. This is also the best eyeliner to use for your water lines.
How to Apply Eyeliner
A gel pencil liner is a great choice for a smokey eye look. You can line your lashes and then smudge it to create this look. Although you can vary the thickness of the line you draw with an eyeliner pencil, you typically can't get as fine a line as with a pen. LimeLife's gel Enduring Eyeliner Pencil is a long-wearing, smudge-proof and waterproof eyeliner. This eyeliner lasts for 24 hours! It glides on so smoothly and easily that it too is a great choice for beginners. If you're wondering if you should apply eyeliner before or after mascara, you want to apply it first.
Questions and Answers About Eyeliner vs Eyeshadow
Eyeliner may not be as versatile as eye shadow. But, it still offers some versatility. An eyeliner pen is good for filling in eyebrows and for defining them. The downside is that there aren't as many color options as you have for shadows. So you may get a better, natural look by using a powder eyeshadow.
Do You Apply Eyeliner Before or After Eyeshadow
It's not quite the same as the chicken and the egg question, but this is definitely a popular question. Should you put eyeliner on first? Or, should eyeshadow go on first? You want to start with eyeshadow first and then apply eyeliner. If you apply eyeliner first it will get covered when you apply eyeshadow. Of course you can take the sandwich approach and apply eyeliner, eyeshadow, and then eyeliner again. 
Do You Apply Eyeliner Before or After Mascara
Whether you choose a liquid form, pencil liner, or eyeshadow as liner, you should apply liner before you apply mascara. Mascara should be the last step in your makeup route. And if you're wondering about eyeliner vs mascara and which is better, this really comes down to your personal preference. Eyeliner defines your eyes, while mascara helps open them up.
Pro Tip from Makeup Artists
In what order do you apply your makeup? I think that a lot of people's makeup routine is to work on their complexion first and then finish with their eyes. However, a makeup artist tip is to do your eyes first (minus your mascara). This way if you have any eyeshadow color that falls under your eyes you can use a cotton swab with some makeup remover to clean it up. Then you are ready to apply your foundation and concealer and you won't have to worry about it getting messed up.
Pictures of Eyeliner vs Eyeshadow Looks
Here are some different ideas for makeup looks you can create with eyeshadow. When you choose LimeLife's Perfect Eyeshadow you can build your own custom palette. This lets you build a palette with all the colors YOU want. Not sure about the colors that you need, or want? That's OK there are pre-built palettes for you as well. For instance, there are palettes based on your eye color. My favorite palette is the one for hazel eyes. Or, grab the essentials palette to get all of the most important shades.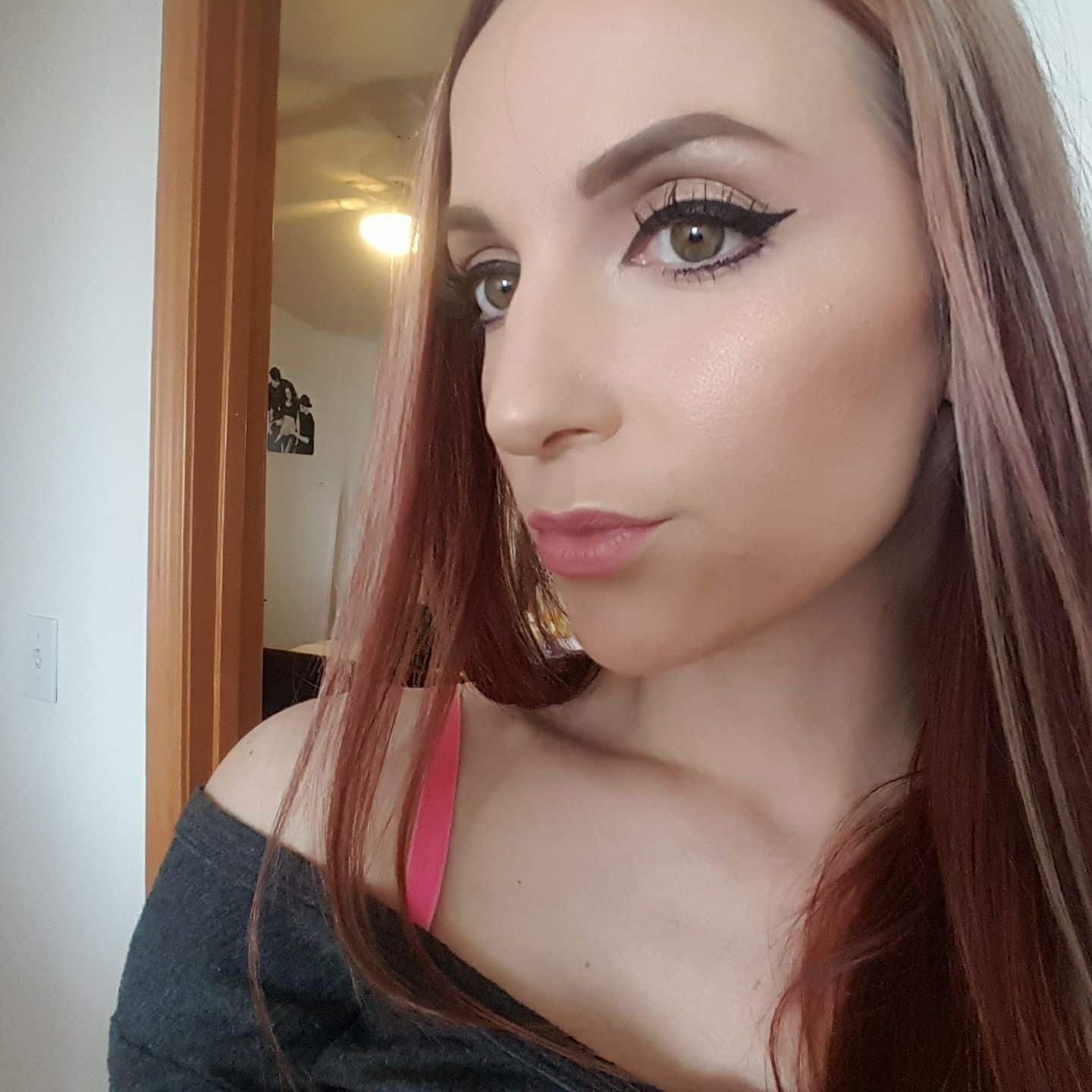 You can use eyeliner and eyeshadow to create some amazing looks for Halloween. Here's a look at one to inspire you.
Choosing Eyeshadow Colors
LimeLife has 52 different colors to choose from when building your custom palette. There are vibrant colors, and a variety of shades to choose from. Here are a look at 18 of the colors that offer a wide range of looks you can create.
Summary of Eyeliner vs Eyeshadow
Hopefully I've helped answer questions you may have had about eyeliner vs eyeshadow. Which one is better for you, and understanding the different ways that you can use each. Whether you prefer a softer look. Or, a bold and colorful look, eyeliners and eyeshadows can help you achieve the look you want. There really isn't any right answer, a lot of it just comes down to personal preference.
Related Articles You May Enjoy:
Choosing the Best Eyeshadow Palettes