Foundation and concealer may be the tools that give us a flawless complexion, but it's blush that can really transform your look. Knowing how to choose blush color can help you create a natural rosy glow. Or, a bolder look that really accentuates your cheek bones. Knowing how to choose the right blush color can feel overwhelming since there are so many shades available. But, we'll break it down and help you find the best blush color for your skin tone, undertone, and makeup style.
Why Knowing How to Choose Blush Color is Important

Choosing the right blush color is an important step in your makeup routine because the right color can make or break your look. That's because blush is used to show-off your features and as the saying goes, you want to accentuate the positive. Knowing how to choose blush color is an easy way to make sure you get the right makeup look.
The best blush color is one that complements your skin tone. Skin tones are generally put into three categories: light, or fair skin tones, medium skin tones, and dark skin tones. In short, skin tone is how light, or how dark, your skin is. A person with really fair skin needs to stick with softer and lighter blush colors because a blush with too much color is just going to be too harsh. But someone with a deeper complexion needs to go with richer colors in order for the blush to stand out.
When choosing a blush color, you can go for a natural color that blends with your skin tone and gives your cheeks a healthy glow. Even just a little bit of color on the apples of your cheeks can really brighten up your complexion. Alternatively, blush can be used as a way to contour and define the shape of your face. This lets you show-off your features.
Determining Your Skin Undertone
The key to a good blush is making sure that it blends naturally with your skin tone, but you also have to consider the undertones in your skin. Where skin tone refers to how light or dark it is, undertones is the hue of the pigments in your skin. Undertones are generally broken into two categories: warm undertones and cool undertones. You can read more about undertones in my article about How to Choose LimeLife Foundation, but here's a quick description for each.
Cool Undertones: People with cool undertones tend to have the following characteristics.
Your skin tends to have more pink or red in it.
The veins on the inside of your wrist tend to look blue.
Your skin tends to burn, or not tan as easily or deeply as those with warm undertones.
Silver jewelry looks better against your skin and is more flattering.
Warm Undertones: People with warm undertones have the following.
Your skin has more yellow hues in it.
The veins on the inside of your wrist look more green than blue.
Skin with warm undertones tends to tan easily in the sun.
Gold jewelry is more flattering as it complements the yellow in your skin.
In addition to cool and warm undertones, there's actually a third type referred to as neutral undertones. People in this category have a balanced tone that is essentially in the middle, or a perfect blend of cool and warm. Now that you know your skin's undertone, you can combine this with your skin tone to determine what blush color is best for you. 
Best Blush for Cool Undertones
The most flattering blush for skin with cool undertones is a blush that has pink hues in it. Like a soft pink blush for example. This is a pretty choice for someone with fair skin. The light pink color gives you just the right amount of color for a natural flush look.
Rosy pinks, berry and mauve toned blush colors are also good for cool undertones. These are all a great choice for people who have cool undertones in their skin. But remember, you have to think about the tone of your skin when you choose a blush color. Stick with lighter shades for fair skin, and you can increase the intensity of the blush color based on how deep your skin tone is. 
Best Blush for Warm Undertones
When trying to find a blush for skin that has warm undertones, look for a blush in the peach or coral family. You can also go with a pink blush, but you just want to find a pink shade that has more red than blue undertones in it. A lot of bronzers tend to be good for warm undertones as they usually have lots of tan and yellow tones in them. Depending upon the shade of the bronzer, this can be a way to add a natural splash of color.
Best Blush Shades for Your Complexion
LimeLife by Alcone's Perfect Blush is a professional powder formula that is so light on your skin. It is finely milled, which is the fancy way of saying it is really lightweight. This is why it looks so natural on your skin. The blush adds the pop of color that you want, without adding layers of makeup. So no matter what type of look you're going for, LimeLife blush gives you a flawless finish. It's why makeup artists use it, and why they love our blush formula.
Like all LImeLife products, their Perfect Blush is highly pigmented. This means that you get tons of color without having to apply much. This is another reason why it gives such a natural look. If you've ever applied blush and had to keep adding more and more because it didn't show up, this is an example of a product that did not have much pigment. LimeLife is just the opposite so just a light dusting of blush and you're all set for the day.
Here are my recommendations for how to choose a LimeLife blush color.
Light Complexion: For those with a light complexion, I recommend LimeLife blush #3 (Possible), #4 (Keen) or #5 (Blushing).
Medium Complexion: The best shades for this skin tone include #1 (Alive), #3 (Possible) , #7 (Peachy) or #9 (Boom)
Dark Complexion: For those with deeper skin tones, I recommend #1 (Alive), #2 (Exciting) , #7 (Peachy) #8 (Slam), #10 (Oh Snap) or #11 (Pop)
​All skin tones: There is one LimeLife blush shade that is perfect for all skin tones and that's blush #6 (Glowing). This shade is more like a highlighter, and it is so flattering on all skin tones. This shade gives you such a healthy and natural glow, it is a favorite of mine and every makeup artist I know.
These are just a few of my recommendations for LimeLife blush to try for your skin tone. But as you can see by the picture below, there's really no rule to what blush to use for your skin tone. This is a picture of a bold color that is really good for darker skin, but as you can see it looks amazing on lighter skin too. Have a light hand, blend it perfectly, and you can apply blush like a pro!
How to Apply Blush
Knowing how to choose blush color is one step in the process, but you still need to know how to apply it. After all, even the best blush color can look terrible if you've applied it incorrectly. Now don't worry it's actually super easy to apply blush, but here are a few tips for how to get a professional looking application that is perfect for your face shape.
The first way of applying blush is to use a fluffy brush to apply an oval shape of blush along your upper cheekbone. Don't apply it to the apple of your cheeks but start just behind this spot and sweep up along your cheekbones. Because you're using a domed brush for this technique and the color is placed farther back on your cheeks, you can actually go for bolder and brighter colors with this technique. Think of it like this, if you apply a bold color to the apples of your cheeks you'll look like a clown. But if you move the blush back more it contours and highlights your cheekbones.
The next way to apply blush is for those who like rosy cheeks. I love this look because it adds a nice, healthy pop of color to your cheeks. For this technique, smile and apply the blush in a circular motion along the apples of your cheeks. A stippling brush is a good option for this one and if you go with this type of brush you want to dab the blush on instead of swiping. If you use a contour or typical blush brush instead, just use a light touch to dust the blush on your cheeks. A bright pink or peachy blush is a nice choice for this application since it's the perfect color to match your natural cheek color when blushing.
If your goal of applying blush is to draw the attention towards your eyes, then another technique is to use a highlighter at the top of your cheekbones. Apply a light blush, or highlighter like LimeLife #6 just under your eyes and sweep up towards your temples. This technique is great to do with a fan brush because it's so light and gently under the eye area. And, the brush is so soft it adds just enough color and highlight to this area. This is one area where you can get away with using a blush that has a little shimmer in it.
Sculpting and contouring is another way to apply brush. This is a great technique for people with a square, or round, face who want to add shape and a chiseled cheekbone. Rather than applying the blush on top of the cheekbone, for this one you want to apply the blush below the cheekbone. You can find the perfect spot but sucking in your cheeks (like you're making a fishy face), and apply the blush just below the cheekbones. For this technique, an angled contour brush is your best bet and a beautiful bronzer, or a blush with more brown in it is a good option. 
No matter which technique you use, the key to applying blush is to have a light hand. You want to use as little as possible, so that you get a natural look. And you can always build on the color, so start gradually and apply more as needed. 
Pictures of Blush Colors
One of the things that I love about LimeLife is that they have custom palettes for their foundation, concealer, eyeshadow and powders. This means that you can pick out just one blush color. Or, choose a 2 color or 4 color palette instead. I like the 4 shade powder palette because it's perfect for a translucent powder, blush, bronzer, and highlighter. This gives you something for every season, and every makeup look.
Blush for Fair Skin Pink Undertones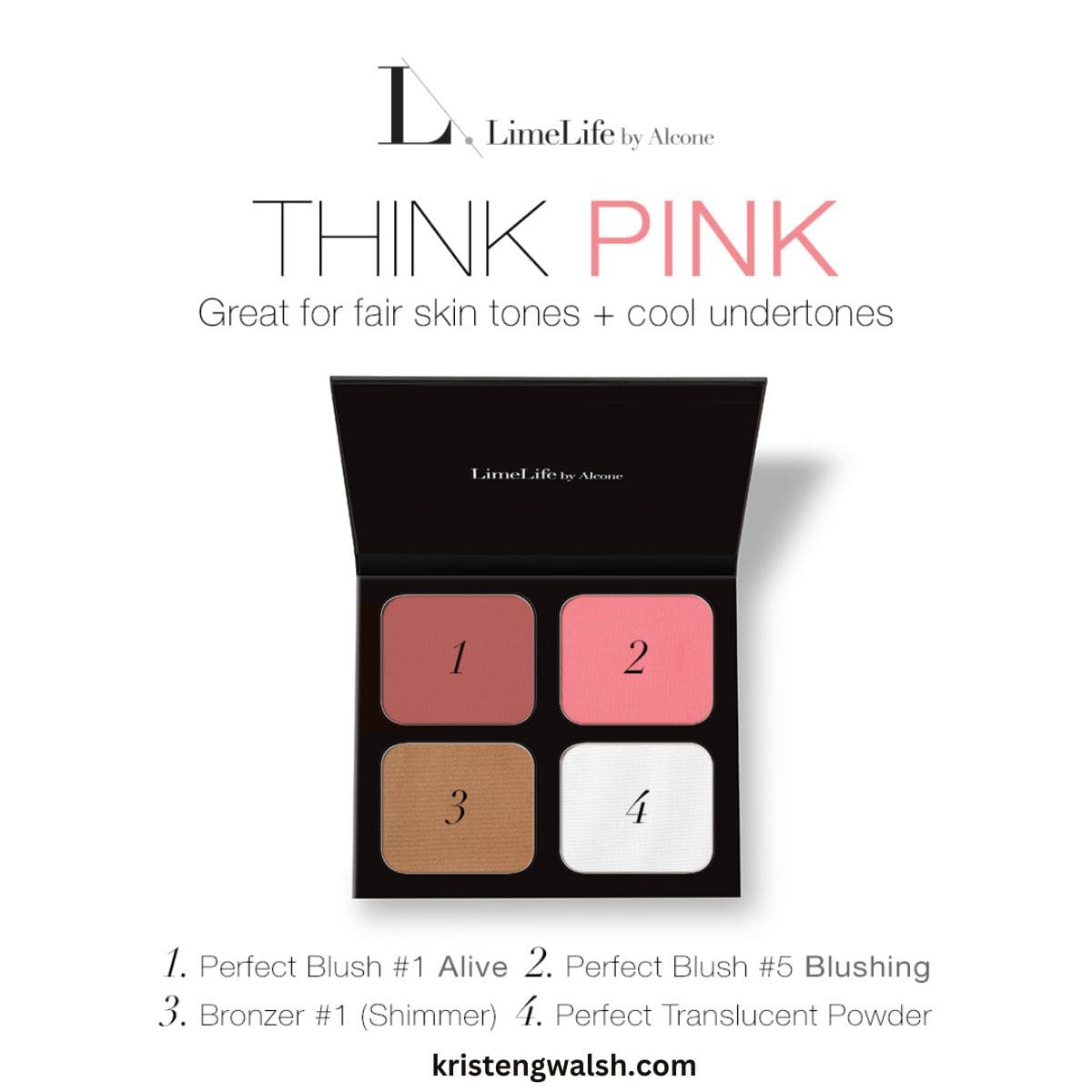 Blush for Medium Skin Tone Warm Undertones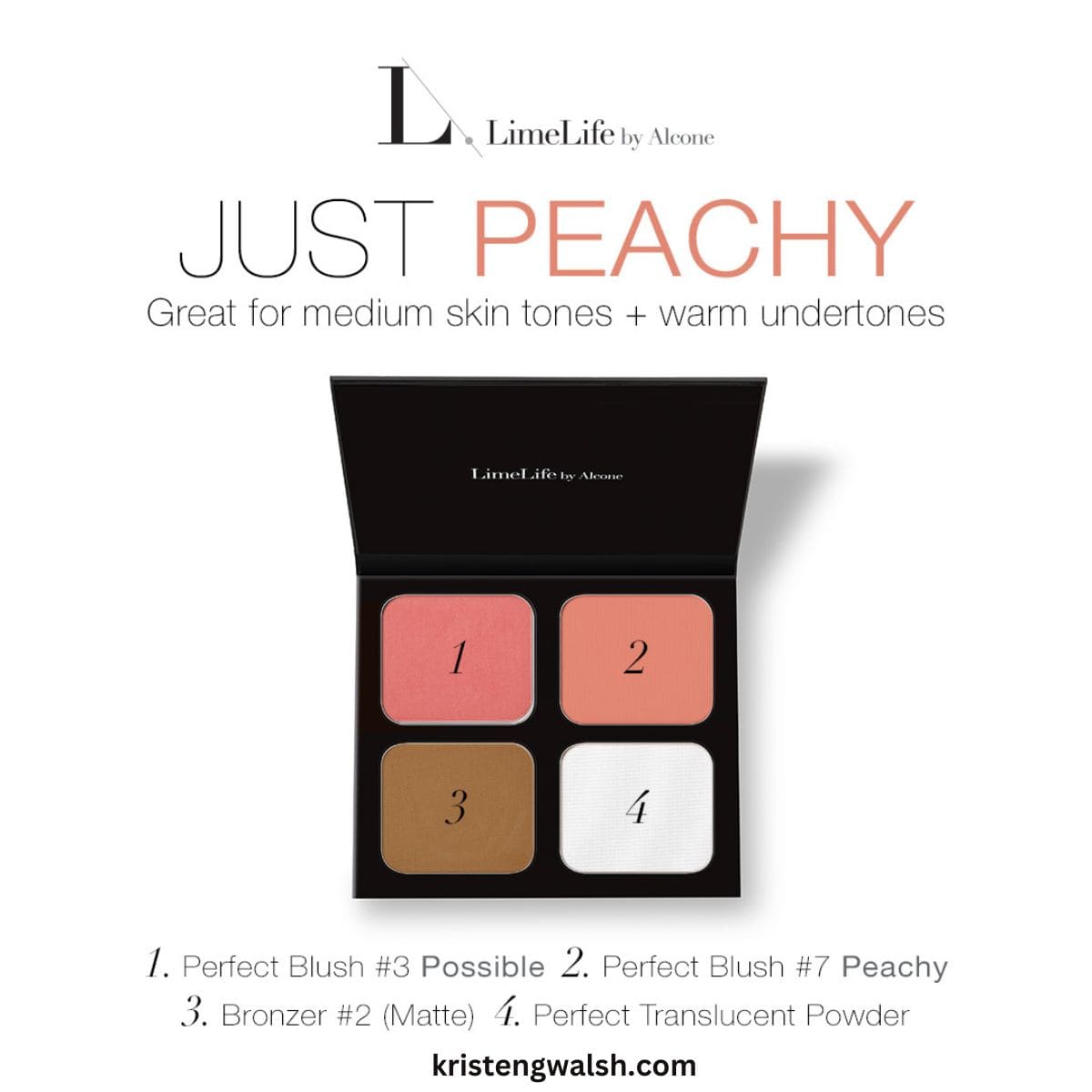 Blush for Deep Skin Tone Neutral Undertones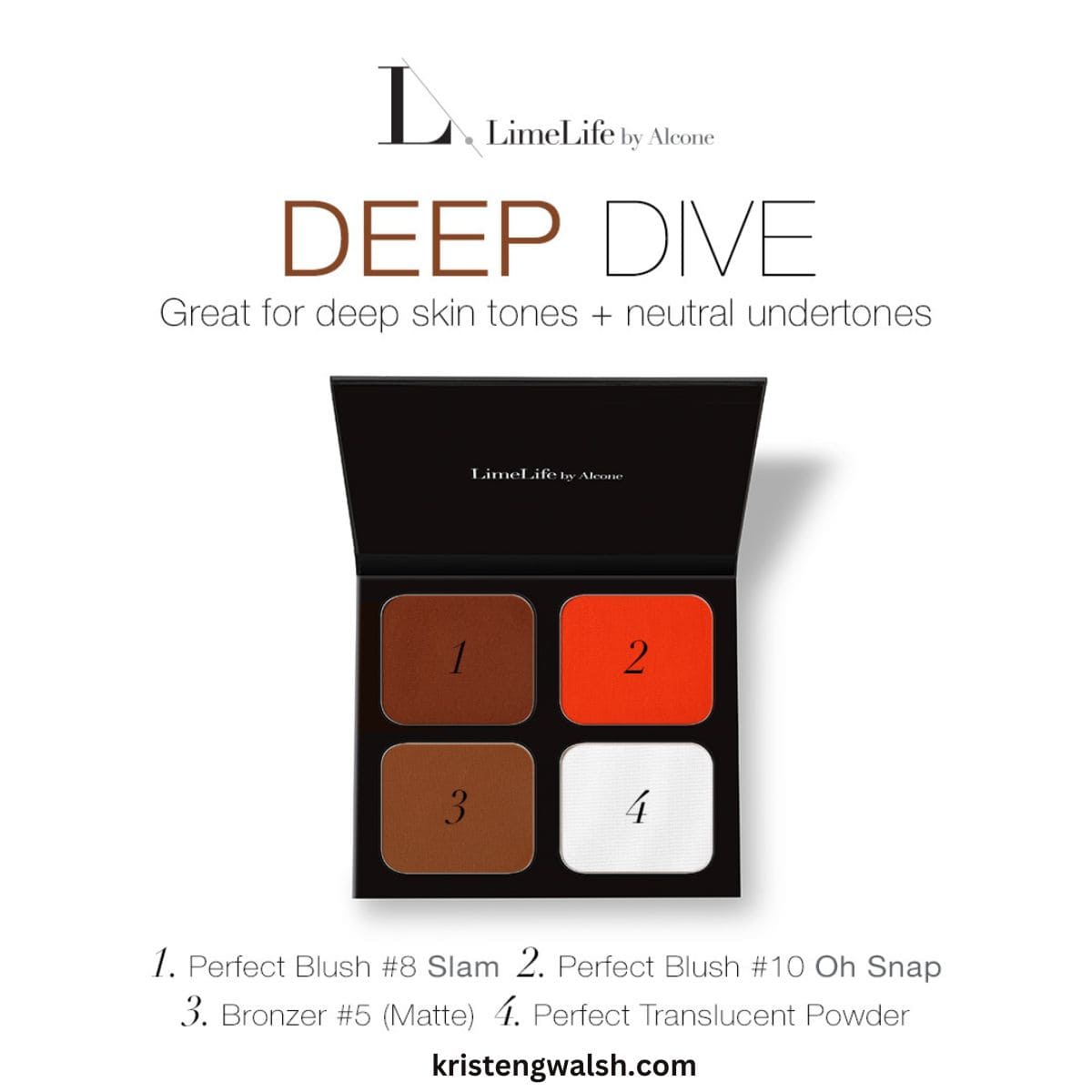 How to Choose Blush Color for Different Looks
Now that you know the different ways to apply blush, figure out which technique you like to use and that will help you know how to choose blush color. If you use technique #1, you can use blush with more color. However, if you like to go with #2 then you want a softer color so that the apples of the cheeks have a natural tone.
Knowing how to choose the perfect shade of blush is an important step for any makeup look. I'm a person who wears blush every day, even on bare skin for days when I don't wear foundation. I have a sallow complexion, so for me I feel like blush is the key to making me look healthier and more awake. 
The fun thing about blush is that it's an easy way to change your entire look. The right shade of blush for one day, may not be what I want the next. This is especially true during different times of the year.
For instance, in the winter when I have a light skin tone, I opt for LimeLife #5 (Blushing). This gives me a pretty pink flush of color. In the summer when my skin is not as pale, I like to use a bronzer to give me a sun kissed look. I also change the way I apply my blush based on the color I choose. The pink I place on the apples, but bronzer I put higher up on my cheeks closer to my eyes.
The perfect blush shade is one that fits your skin tone, your mood, and your makeup style. Now that you know how to choose blush color, have fun and play around with colors and how you apply them. The possibilities are endless when you have different powder blushes in your makeup kit.
Find Your Perfect Blush, Bronzer, or Highlighter
Related articles to how to choose blush color.